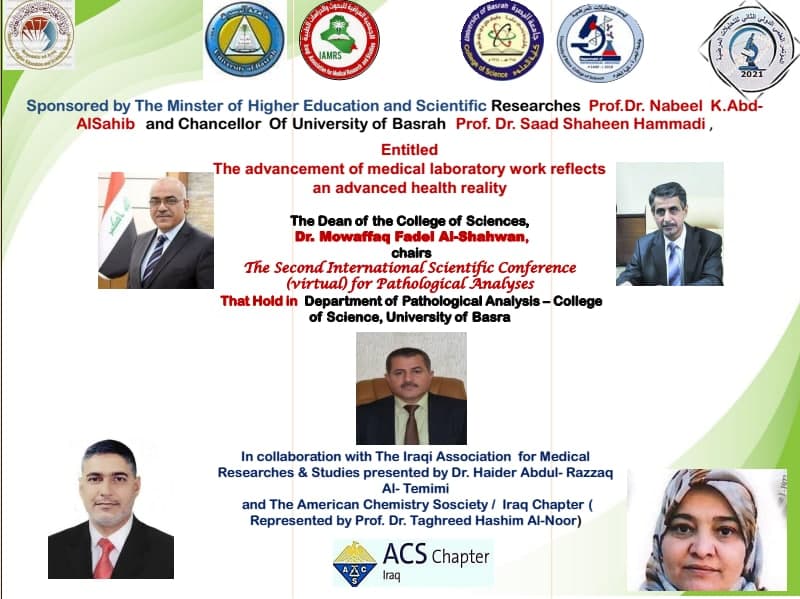 Sponsored by The Minster of Higher Education and Scientific Researches Prof.Dr. Nabeel Kadhum Abd- AlSahib and Chancellor Of University of Basrah Prof. Dr. Saad Shaheen Hammadi , In collaboration with The Iraqi Association for Medical Researches & Studies and The American Chemistry Sosciety / Iraq Chapter ( Represented by Dr. Haider Abdul- Razzaq Al- Temimi and Prof. Dr. Taghreed Hashim Al-Noor)
Entitled
The advancement of medical laboratory work reflects an advanced health reality
The Dean of the College of Sciences,
Asst. Prof. Dr. Mowaffaq Fadel Al-Shahwan, chairs
The Second International Scientific Conference (virtual) for Pathological Analyses
That Hold in Department of Pathological Analysis - College of Science, University of Basra
:Conference goals
Expanding scientific perceptions and reviving dialogue between researchers to learn about the latest developments in medical laboratories
Providing a scientific space to view the scientific output of researchers
Strengthening ties between researchers and establishing channels of scientific cooperation Improving the reality of laboratory work and developing scientific research
Conference Themes
Medical Microbiology, Histology Pathology ,Physiology and Hematology ,Medical Genetics and Genetic Diseases , Medical Biochemistry , Immunology, Nanotechnology and Biotechnology Applications in Medical Laboratories
The Organization Committee
Prof .Dr. Awatif H. Issa
Prof Dr. Athir M. Haddad
Prof. Dr. Shereen J. Kadhum
Asst. Prof.Dr. Zainab R.Abdul-Hussein
Asst. Prof. Dr. Rasheed R. Htait
Asst. Prof. Dr. Hanaa S. Kadhum
Asst. Prof. Dr. Afrodit A. Saleh
Asst. Prof. Dr. Adhraa A. Aziz
Prof. Dr. Lubna A. Majeed
Asst. Prof. Dr. Nibras S. Jawad
Dr. Zainab A. Abbood
Dr. Hanan R. Al- Njar
Dr. Amer S. Dawood
Dr. Basim A. Abdulhassan
Dr. Hussam R. Al- Huraishawi
Dr. Karamallah S. Mahmoud
Supervisory Committee
Dr. Dhurgham A. Al- Ajwadi
Prof.Dr.Zaki A. Ahmad
Prof.Dr. Alaa H. Abdullah
Dr. Majid N. Hmoud
Scientific committee
Prof. Abdullah H. Abdullah
Prof. Dr. Nassie A. Al-Mansour
Prof. Dr. Bassima A. Abdullah
Prof. Dr. Mufeed A. Habeeb
Prof. Dr. Muslem A. Muhammed
Prof. Dr. Adnan I. Al- Badran
Prof. Dr. Ikhals Q. Jassim
Prof. Dr. Dunya A. Hussain
Prof. Dr. Shereen S. Ghaleb
Prof. Dr. Hikmet J. Jamil
Prof.Dr.Abdulameer Y. Yousef
Prof. Dr. Fawzia A. Rajab
Asst.Prof.Dr. Sadiq H. Kadhem
Asst. Prof.Dr. Ginan S . Al-Yassin
Asst.Prof.Dr. Sawsan S.Al-Haroon
Dr. Wael J. Al- Shihaby
Technical Committee
Asst. Prof. Dr. Amin A. Awadh
Asst. Prof.Dr. Iman M. Abd-Zahraa
Asst. Prof. Dr. Adnan A. Hamad
Asst. Prof. Dr. Sundes A. Khaled
Dr. Zuhair A. Abdul- Ridha
Dr. Ayaat J. Laaeibi
Dr. Aalaa A. Chmagh
Media Committee
Prof. Dr. Adel J. Hussein
Dr. Wasan S. Hamdan
Lect. Keyan A. Mutlaq
Asst. Lect. Iman J. Taha
:Conference Timings
Date of conference 24-25 November / 2021
The deadline for receiving scientific research abstracts is 15/10/2021,
and the full research will receive on 25/10/2021
The research must not been published or participated in a previous scientific conference
Research will published in one of the Scopus journals that will be announced later
Participation is free with the granting of a certificate of participation in the conference. As for the research that is published, the researcher pays the publishing fee.
Or publishing in Iraqi National Journal of Medicine (for free)
Contact information
For any inquiries ,contact the conference's preparation committee through E- mail
path2ndconf@uobasrah.edu.iq
Or contact the following numbers
009647801059989 009647801148584